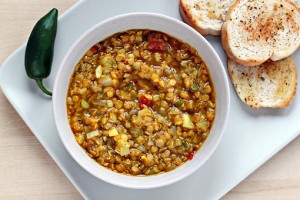 A new place to share vegetarian recipes. View my own recipes and upload your own. Discussions are welcome and your recipes can be made private or public. In my sixties, I made a huge turnaround regarding meat. So Vegans are roundly invited to contribute and upload their own. I have tried most of the link recipes and they are top notch.
Start learning LENTIL. Soy milk, soy protein. Vegetable smoothies, soybeans and brown rice might go far in preserving a planet population that will be three times the size of mine when I was born. May the Dal be with you! In the meantime you might check out some of the Indian recipes

Avocado Tomato Salad
Easy Cook: Baked Chickpeas link
Chili – Vegan
Curried Cauliflower
Dal Indian Tomato Soup
Dill and Cheese Puggs – link
Eggplant Salad and Olives
Mang-Avo-Tom Salad ?? You might have to sub one ingredient
Mediterranean Plantain Flatbread – delicious link
Loaded Sweet Potato recipe and others
Vegetable fritters – link
Vegan Beet root cookies link
Vegan Squash Soup
With milk products:
Chilled Yogurt and Cucumber Soup
Watercress Potato Soup
Yogurt based soup – Turkish link
A GREAT local Organic Produce Farm- Their recipe page!
(Visited 121 times, 1 visits today)