! STOP! 'SMART' METERS  in Clallam County WA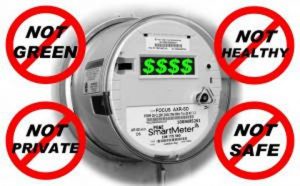 Between 2019 -2023 our PUD is planning to replace 67% of all meters with 'Advanced Meters'. These 22,00 two-way meters, send your meter data directly to the PUD multiple times per day, using radio frequency technology similar to that used in cellphone towers. The 'Opt-Out' to keep your analog meter is $35.mo. (that is 420/yr) so not really an 'option' but a catastrophic bill for many residents
Aside from opening up this issue to public hearings or really delving into the complicated financing of this, they simply have proceeded with this 'Upgrade' stating that despite the $3.75 million price tag that they expect to save $300,000/yr in operating costs by cutting down on meter reading staff. This is laughable as they full well know that installing ANY new technology or equipment that there will be glitches, calibrations and upkeep to these shorter lived units. Leaving out the bond or interest costs that will probably mature closer to $5 million by the time they are installed they state that these meters will pay for themselves in 12 some years. Yet, Smart Meter executives have stated that these meters have a general life span of 5 to 10 years. Here are some basic questions to ask the PUD!
Neither is the cost of towers and repeaters put into the equation. Smart Meters also appear to break down or malfunction more easily than analog meters and require well trained repairmen to correct. I assume they will be costing more than the general meter reader who is happy to come by and check the cheaper and more durable analog meter that has a lifespan of 30 yrs.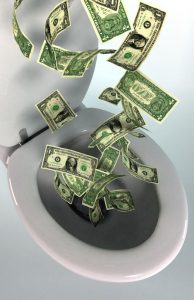 SO WHO DO YOU TRUST? Certainly not the PUD who has not revealed the true economic costs, the impacts of health issues and possible wide spread grid failure due to 'smart' hacking.
YOUR privacy will be affected:
A smart meter records all aspects of your electric usage 24/7. By data mining the information one can sell or use the profile of the usage. This data can be used to determine exactly what appliance your are running at what time, when you are home. Is your water heater or appliance out of date? Just like your septic system, if out of date or not energy compliant fines might be charged for using that old inefficient dishwasher. Charges could and probably be changed to 'smart' rates where the utility will charge extra if you use power during the prime morning or evening hours. Throw in the sold information to the government and one might see all your appliances being red flagged in the name of environmental protectionism.
Like the documentation in your chipped car, smart meters will record every single aspect of the electrical usage in your home, water meters will be next. If you enjoy living in a Glass house this is what will happen, especially if that data gets into the 'wrong' hands like data miners. Here is the link as to what one such company ONZO has to say: Play the audio part. "We build energy consumption data and make profiles on every customer" …  the back doors to your computer or cell phone are small potatoes compared to the powerful streaming ability of these utility meters.
The wireless technology makes the meters vulnerable to hacking. With access to the data criminals could determine exactly what your daily schedules are and when your home is empty. Safety experts have also warned about hackers being able to deliberately manipulate the meter to catch on fire. HINT, buy insurance stock!
Lastly, the vulnerability of this smart meter network makes the entire grid more vulnerable to a catastrophic melt down and the fix might be weeks not hours.

Had enough? Get involved. Contact the PUD at Main Office 104 Hooker Road Sequim, WA 98382
(360) 452-9771
(800) 542-7859 Ask and sit in on public meetings and send them an email regarding this issue. COPY customerservice@clallampud.net
WE can and must stop this overhaul before it begins and we need to do it right now. Sign the petition's we will have and ask to speak before the commissioners. It is your right. The P.U.D. needs to be reminded that they are supposed to be a NON PROFIT utility – one that answers to "We the People."
Stay in touch. Here a few links to check out.
Truckee CA. 
Smart meters and fires.
Effects of higher frequencies on human cells
A study by thee US department of health and human services on cellphones:
Radio frequency (RF) Radiation
Pt. Townsend – our neighbor and their response. 
And Port Angeles as well!!!
Take back your power a documentary.
A link how these Mini Towers cannot even be restricted by zoning laws for health concerns – remember your PUD has easements all over your property. Firemen have complained about their placement on Fire Stations. 
Always wondered about working 24/7 under one like at the Sequim Fire Station,and some are placed right next to schools.
Outdated FCC regulations on RF Radiation.
As a beekeeper I am also very concerned about the increased use of Smart Meters and their effect on endangered Honey bees and insects in general.
GERMAN NEWS: – Translated (hit translate) Counters for electricity, gas and water cause cancer.
Petition files signature pdf. 
Petition itself pdf.
(Visited 220 times, 1 visits today)