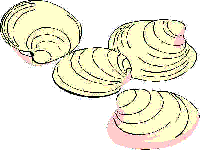 Clam Linguini, Herb Senft — a Squimer
Ingredients:
8 -12 oz. of linguini
2 tbs. or more of olive oil
2 cloves garlic minced and 1/4 cup of shallots chopped fine.
1 tbs. Basil, crumbled
1 tbs. Chopped parsley
Lemon juice — squeeze some over the clams, before cooking.
2 cans minced clams or 16 clams, washed well
2 tbs. Of white wine
2 tbs. flour
2 tbs. or more of butter
optional – a few mushrooms chopped up.
Preparation:
Boil the linguini as instructed. I usually throw some olive oil or little butter to the water.
Drain clams – sprinkle meat with lemon juice, reserve the juice.
Heat the olive oil and 1 tbs. butter, cook shallots and garlic until golden. (Not brown) — less than a minute usually. Add the mushrooms, cook. Add the flour and cook the roux, stir about two minutes. Remove from heat, add butter, clam juice, basil, wine (or vermouth) and return to stove, heat until the foam reduces and the liquid reduces. A minute or two. Add the clams, parsley, simmer over moderate heat until thickened. Usually 3 minutes. Do not overcook. Season with pepper and salt to taste. Yields a delicious dinner for two. Serve over spaghetti with Parmesan cheese. And a good crisp, dry white wine.
Add salt, pepper, and a pinch of cayenne to taste. Garnish with whatever. Templates are good, as they are meant to be personalized. Doubt I have ever made this without adding a touch of chili, caper's, curry or roasted pepper. As stands, it is a great twenty minute dish.
Ever stop to think, and forget to start again?