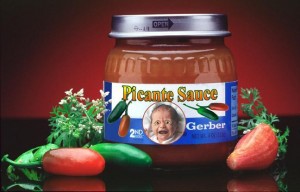 Considering the times we live in we all  need stories to make our day a bit brighter. Most Newspapers have a  'Daily Rant' but the following stories are about about the good things in life, e. g. joyous occasions and accomplishments to brag about. In my own case I tend towards the frivolous and stories that you have to read twice to believe. If you would like to contribute to them, please add a comment.
A fishy Creation Story – not irreverent at all.
A Slug fights for equal rights
Cartoons - political and not/strong>
Continuous story telling - just for fun
Donald Trump Picks his Running Mate
Doomsday, Hoarding and what to purchase.
Find the #1 Song on the Day You Were Born
Funny Stories and links
Jokes
Mammories of the 1960′s
Menage a Quartre
Pot Initiative in Oregon and the HEMP WAR 😛 
More on this!
Reincarnation
Search for enlightenment
Squirrely humor
Study Links Homosexuality to Eating Grits (Link)
Wedding Invite

World's Largest Oil Field Found Off Scottish Coast (Link)

(Visited 52 times, 1 visits today)