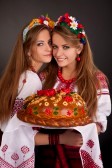 Below is a Mixed salad with radishes, spring onions, sour cream and eggs, a very tasty and healthy salad, easy to cook and truly Ukrainian.
A typical Fish salad follows.
Mixed Salad

150g of radishes
1 tbsp of chopped spring onions
2 hard-boiled eggs
1 glass of sour cream
salt
Wash radishes, remove their tops. Slice radishes, mix with chopped spring onions, put into a bowl. Add diced hard-boiled eggs, dress with salted sour cream. Serve immediately.
Fish Salad "Mimosa"
It's a popular festive dish in Ukraine. Many friends of mine (including me, of course) cook this dish for birthdays and other holidays.
1 tin of sardines
1 jar of mayonnaise
1 onion
100g of butter
100g of cheese
5 hard-boiled eggs
It's a dish that consists of several layers of food in a in a bowl. Separate the whites and yolks of the hard-boiled eggs. Grate the whites into the bowl. It'll be the first layer. Grate the cheese (the 2nd layer). Put the tinned sardines on a plate and crush them with a fork until they get soft. Then divide the crushed sardines into two halves, and put a half into a bowl, making the third layer. Cover it with half a jar of mayonnaise. For the next layer grate the frozen butter into the bowl. Chop the onion. Put the chopped onion onto butter. Then put the rest of the sardines, and cover with half a jar of mayonnaise. Finish by grating the yolks onto the top of the salad. Put into refrigerator and let it stay for half an hour. Then you may serve it, putting into each plate a piece of salad so that there are all the layers in it.
(Visited 47 times, 1 visits today)