I am a mother of three (ages 14, 12, 3) and have recently  completed my college degree. The last class I had to take was Sociology. The teacher was absolutely inspiring with the qualities that I wish  every human being had been graced with. Her last project of the term was called "Smile." The class was asked to go out and smile at three people  and document their reactions.  I am a very friendly person and always  smile at everyone and say hello anyway, so, I thought, this would be a piece of cake, literally.
Soon after we were assigned the project, my  husband, youngest son, and I went out to McDonald's one crisp March morning. It was just our way of sharing special play time with our son. We were  standing in line, waiting to be served, when all of a sudden everyone around us began to back away, and then even my husband did. I did not move an  inch…an overwhelming feeling of panic welled up inside of me as I  turned to see why they had moved. As I turned around I smelled a horrible "dirty body" smell, and there standing behind me were two poor homeless men. As I looked down at the short gentleman, close to me, he was "smiling."
His beautiful sky blue eyes were full of hope as he searched for acceptance. He said, "Good day" as he counted the few coins he had been clutching. The second man fumbled with  his hands as he stood behind his friend. I realized the second man was mentally challenged and the blue eyed gentleman was his salvation. I held my tears as I stood there with them. The young lady at the  counter asked him what they wanted. He said, "Coffee is all Miss" because that was all they could afford. (If they wanted to sit in the restaurant and warm up, they had to buy something. He just wanted to be warm).
Then I really felt it — the compulsion was so great I almost reached out and embraced the little man with the blue eyes.  That is when I noticed all eyes in the restaurant were set on me, judging  my every action. I smiled and asked the young lady behind the counter to  give me two more breakfast meals on a separate tray. I then walked around the corner to the table that the men had chosen as a resting spot. I put the  tray on the table and laid my hand on the blue eyed gentleman's cold hand. He looked up at me, with tears in his eyes, and said, "Thank you."
I leaned over, began to pat his hand and said, "I did not do this  for you. The Creator is working through me to give you hope." I started  to cry as I walked away to join my husband and son.  When I sat down  my husband smiled at me. We held hands for a moment and at that time we knew that only because of the blessings that we had been given were we able to give.
I returned to college, on the last evening of class, with this story  in hand. I turned in "my project" and the instructor read  it. Then she looked up at me and said, "Can I share this?"  I slowly nodded as she got the attention of the class. She began to read and that is when I knew that we, as human beings need to help people. In my own way I had touched the people at McDonald's, my husband, son, instructor, and every two-legged that shared the classroom on the last night I spent as a college student.
I graduated with one of the biggest lessons I would ever learn:
UNCONDITIONAL ACCEPTANCE.
LOVE PEOPLE AND USE THINGS – NOT LOVE THINGS AND USE PEOPLE.
Many people will walk in and out or your life, but only true  friends will leave footprints in your heart. To handle yourself, use your head; To handle others, use your heart. Anger is only one letter short of danger. Great minds discuss ideas; Average minds discuss events; Small minds discuss people.
The Creator gives every bird it's food, but does not throw it  into it's nest. He who loses money, loses much; He who loses a friend, loses  more. Beautiful young people are acts of nature, but beautiful old people are works of art. Learn from the mistakes of others. You can't live long enough to make them all yourself.
The tongue weighs practically nothing, but so few people can  hold it.  Friends, you and me … you brought another friend … and then there were 3 … we started our group …. Our circle of friends … and like that circle … there is no beginning … there is no end.
---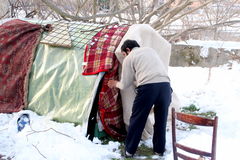 Throw in – 'no inflation – jobs have recovered – housing and GDP are up and a recent speech about not leaving a nation's children encumbered in debt.'
Homelessness has NOT been dealt with and some communities have made draconian decisions to avoid dealing with this issue. Cities like San Jose, Boston, Baltimore simply do NOT have 'the affordable housing' that this report lies about. These are your neighbors and they live in the gutter, under the by pass and in tent cities right next to you. At this moment Detroit and other US cities are bulldozing down thousands of homes with YOUR tax money.
Would it not be more sensible to make these into homestead grants and perhaps create a support group to aid them in their new found homes? A home based Peace Core, instead of another 5 billion to fund and fuel more external anti-terrorism alliances.
I do not accept that there is no hope. I also recognize that in order for the planet to flourish humans need to accept the role of caretakers as this article shows. That includes taking care of each other. Poverty within human societies is the source of the vast majority of wars, civil unrest and environmental damage. We need corrections. And that requires new systems of thought, economics and better representation from our government.
I'm glad I'm getting older. I don"t see a bright future here. Am ready to become a soylent green cracker. Make Room! Make Room indeed!

(Visited 87 times, 1 visits today)