4 potatoes (preferably Yukon gold or Fingerling.
butter to fry or top
salt and white pepper to taste (nutmeg)
2 sore cream – or was it sour cream?
1 egg, preferably not a penguin's
The forever addition of parsley (horseradish to that!)
2 cups flour
bread crumbs
Do all the normal stuff for making mashed potatoes.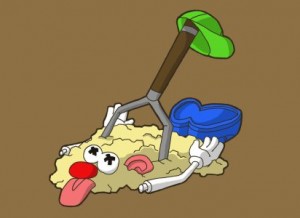 Cook and peel potatoes and mash. Mix with egg, sour cream. flour and the seasonings. I love the horseradish!!!Now put this cooled down blob on a floored bread board, work into a firm dough by adding fresh as needed. Shape into large rolls. Roll out, then slice into the thinnest noodles you can.
Cook in salted water
until they FLOAT to the surface. Drain, fry in hot fat. My mom used lard but bacon fat will do.
Top with
browned
butter and bread crumbs.About four servings unless you are piggish.
The longer you love the same person, the more mysterious they become. Like a pocket full of stars, one will never learn all the lights.
(Visited 35 times, 1 visits today)