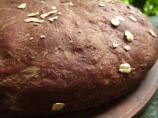 I have been looking for a good Russian Black Bread recipe. This one is the closest I have found. The vinegar adds a bit of a bite, but believe me, with cheese it is marvelous.  I also discovered
this great site
that does the job even better — esp. the instructions for doing it the old way.
Ingredients:
1 1/2 cups water
2 tablespoons cider vinegar
2 1/2 cups bread flour
1 cup rye flour
1 teaspoon salt
2 tablespoons butter or margarine
2 tablespoons dark corn syrup
1 tablespoon brown sugar
3 tablespoons cocoa (unsweetened)
1 teaspoon instant coffee powder
1 tablespoon caraway seeds
1/4 teaspoon fennel seeds (optional)
2 teaspoons active dry yeast
Directions:
Place ingredients into the bread machine in order suggested by the manufacturer.
Use the whole wheat, regular crust setting.
After the baking cycle ends, remove bread from pan, place on a cake rack, and allow to cool for 1 hour before slicing.
Makes one 1 1/2 pound loaf
(Visited 26 times, 1 visits today)