by Mary Senft
2 cups cooked and strained pumpkin
3/4 to 1 cup brown sugar
1/2 tsp. ginger
1/2 tsp. salt
1/2 tsp. cinnamon
(1/2 tsp. nutmeg)
3 eggs beaten
3/4 cups milk,
1/2 cup cream
2 tbs. Sherry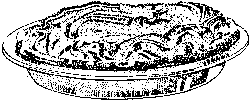 Stir the ingredients together in the order listed. Bake in tart shells or in one crust for about 50 minutes. For the first 10 minutes 500 degrees. Then reduce the heat for the rest of the cooking to 325. Chill before serving. Filling is set when a knife inserted 1 inch from the edge comes out clean.
If you have no taste for ginger, leave it out and increase the cinnamon to 1 tsp. Milk might stand reducing in volume … then again this was her recipe, not mine and it was good.
He who regards his intellectual knowledge as ignorance, has deep insight.
(Visited 35 times, 1 visits today)