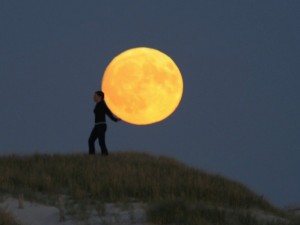 I think I am going to sneak out more in the moonlight hours and take photos such as this. This picture is not mine but reflects what fun night photography can be. A more accurate but not anywhere as powerful as Mt. Walker on a Hunters moon can be
visited here.
My own favorite not taken picture might apply to some of you, depending on the scenery available. Rising October, full moons have to be my most romantic remembrances, dare I say, risings ever. We are on Mt. Walker overlooking the Puget Sound and Seattle. The moon rises over Seattle and sails its glimmer over the water. The moon is both above and beneath our toes. Then it advances and spears us both.
We have lost those dark skies most every where. Near Neah Bay we have a forlorn, lonely and beautiful lake. It is quiet and flat and in the summer one can canoe at night without seeing another soul. Sometimes one hears a beaver splashing its tail. It is part of the serenade. The stars above are brilliant in their gifting. Their reflection by the water spirits below even more.
One slowly glides between two quiet but starlit skies, one above and the other mirrored in the water below. Only the call of the loon could have added substance.
Those are pictures I wish I had taken.
I stopped taking photos for a much too long time. Now I am going forward once again, wiser in more ways than one. I fear that my children will never taste the tales I once was able to cherish.
Mt. Walker is a sadly forgotten gem of the Olympic Peninsula. The views are of Mt. Rainier, Hood Canal, the Seattle skyline, Mt. Constance, Mt. Jupiter and east to Mt. Baker and more. Best of all. No crowds. Mount Walker is the Olympics easternmost peak and the only peak facing Puget Sound to have a road and a trail to the top. In winter, however, the road is gated and makes for a rewarding but steep hike to two viewpoints at the top.
Enjoy the fall/winter solitude, because the road to the top makes this a popular place in the summer.
A truly wonderful and restful place.
(C) Herb Senft 2014
(Visited 53 times, 1 visits today)