This recipe is taken with permission from  Cooking with Tarla Dalal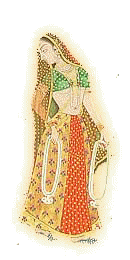 Preparation time : 10 minutes. Cooking time : 10 minutes. Makes 30 to 40 pakodas.
Ingredients.
6 tender corn on cobs.
1 tablespoon chopped coriander
3 green chilies, finely chopped
salt to taste
oil for deep frying.
How to proceed
1.Grate the corn cobs. Add the coriander, green chilies and salt and mix.
2. Heat the oil, drop a little mixture and deep fry until golden. Repeat for the remaining mixture.
Serve hot
Pakodas can be made from most vegetables; cauliflower, potatoes, eggplant, onions and peppers are most often used. Yams and Parsnips are also very good. Eggplant is my own favorite. Shrimp and other shellfish can also be cooked this way. Keep separate from the vegetables.
My friends John and Irene, make a dip using rice powder. About  1/2 cup of very cold water, adding the water to besan (chick pea flour about 1 1/2 cups)  until a batter is formed. 1 tsp. garam masala, 2 tsp. salt One adds 1/2 tsp. ea. of chili powder, and about 1/2 tsp.  ground turmeric and freshly ground cumin seeds and baking soda to the batter.  (or see below) Mix
Gradually add the cold water to make a thick batter, it should be very thick, but still workable.  Add 1 clove garlic, crushed. Add the  garlic to batter and beat well. Let stand for 30 minutes.
(Other seeds such as nigella, fennel or onion seeds can be used for different flavor's — or curry-or coriander adding to your own taste to recipe's like the one above.)
The vegetables are in the meantime being sliced Very thinly and put aside. **
Heat two cups or more of peanut oil or ghee for deep frying  in a wok. Dip the vegetables in the batter and deep fry until they are golden brown. Pull them out with a slotted spoon and drain on  paper towels. Serve hot.
You can consider Pakodas (Pakoras) as vegetable fritters.  They are usually made with vegetables, but fish and shrimp pakoras are equally delightful. **
Another method being to chop the vegetables as did Tarla Dalal, using about 4 cups mixed, chopped fresh vegetables (cauliflower, potato, eggplant) and adding them to the batter, mixing and beating well.   Drop this blended mixture into the oil, by full teaspoons. (reduce the heat a bit to moderate)
Serve with a lime- soy sauce or hot coriander sauce.
and always remember that the 
"THE TREE OF LIFE IS FULL OF LIMBS."
(Visited 32 times, 1 visits today)