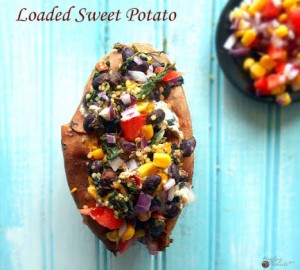 Load a baked sweet potato with Spinach, Corn, Mini Sweet Peppers, Black Beans, Red Onions, Tomatoes and anything else you can think off. Recipe from Healing Tomato site.
Topped with a quick yogurt dressing.
Loaded with goodness this Sweet Potato recipe begs to be used. So many healthy ingredients that I simply had no choice in the matter. I had two concerns and one simply does not suggest a solution. I have a digestive weakness when it comes to black beans and would  have to rinse them off well. Coming off surgery I also worry about the cumin and blood clotting, as I have a low platelet count as it stands. A sub for this might be welcome. Turmeric always works!

'Vegan Yogurt? I am hooked on pro-biotic Greek Yogurt and the cultures in the one I use is not one I would wish to substitute. Perhaps a further definition of "Vegan Yogurt or Vegetarian Yogurt." for the dressing would be nice.
The underused sweet potato is very high in vitamin B6,good source of Vit. C, D, Iron, Magnesium and is very rich in fiber. Fat free it is now becoming more popular. Best of all, you can bake, roast, grill or boil it and can make many different types of dishes using it.
An Indian version would include the cumin and probably add Tamarind or coriander. The Lemon juice could be substituted with orange juice.
My own plain sweet potato (nine) recipe would include 1-2 Tb's of grated fresh ginger, orange juice, apricot preserves, honey and 1 tsp. ground cardamon. Black pepper and kosher salt to taste. Apricot preserves are a great addition. Cumin and chili powder if you want it spicier.
Generally, I make things as they present themselves from the fridge. Essentially I slice up the peeled tubers into 1/2 inch rounds. Heat the oven and bake ware to 425 and use the Middle rack.
Combine the orange juice, preserves, honey and seasonings in a small container and bring to a slow simmer. The smell is scrumptious.
Pam coat or lightly butter the heated cooking bowl and put in the sweet potatoes. Drizzle with the flavorings and toss. Cover and bake for 25-30 minutes. Uncover and add more of the apricot ginger mixture and cook 10 minutes more. Repeat once again. The sweet potatoes should be well thickened but NOT allowed to burn.This can easily happen using the honey, so keep you eyes open and bake accordingly. The heat might be reduced for the last 10 minutes.
Take the dish out and let it cool before serving. This was my potluck for Thanksgiving and it was well received. Hey, anything sweet usually is a winner. Tasty but not as healthy as the recipe above.
While on a food kick I must add a Mea culpa. My neighbor offered me some of the dreaded Z and I turned her down. Considering the health benefits I should add this FREE food to my larder. Fritters, bread and stuffed of course. I draw the line at making smoothies out it and since I have the basil (Greek) I will give this a try. Hemp seed might even be a substitute for the Parmesan. YUP Hemp! From an Asparagus recipe.
Even more healthy was:
Turmeric Zucchini Soup
Aside from the cilantro garnish I liked this recipe … and I might try almond milk instead of the coconut milk. Love the turmeric addition, curry would be good too but adds some heat.
Back to the ASPARAGUS!
Herb Crusted Asparagus.
LINK to the HEMP Seed
was deleted as they did not respond and even my Safeway store carries it.
EDIT: Hemp seeds are oily and high in fat. One tablespoon contains 3 g to 4 g of fat. polyunsaturated fat — However, all this fat can come at a price, and you may experience mild diarrhea when adding shelled hemp seeds to your diet. If your digestive system is sensitive to change, start with small amounts of hemp seed — say, a teaspoon a day — and slowly work your way up to the recommended serving of 2 tbsp."Warning: do not use hemp products if you are taking blood thinners like Coumarin or Coumadin. Hemp will intensify the effects of these prescription drugs."
On a more liquid footnote. Ginger is a great addition to many foods or drinks. It certainly does help the digestive track. I bring this up because I have been also drinking 'healthy' teas such as Rooisbos. I got samplers from one tea company and was surprised how little I liked the raw red Rooisbos.** Be it ginger, citrus, almond, vanilla or mango the fruity additions make a difference. Now HoneyBush (related) was much milder and easier to put down even in the raw form. Cranberry, blueberry, pomegranate are also healthy additives to your South African teas.
Less available was green Rooisbos. That too, can be flavored and my own personal favorite addition is chocolate and mint. As I grow over 12 different mint cultivars my tea larder overfloweth. 🙂 Properly stored most of these teas have a shelf life of 6 months to a year.
** My feedback on the "herbal flavor" of Red Rooisbos was: Herbal = Hay, Barn, Pitchfork. Do the combination. Not a taste I want to go into that good night with. (2015) I would love to hear your comments or additions to these recipes. Cranagranate-ly yours
(Visited 131 times, 1 visits today)