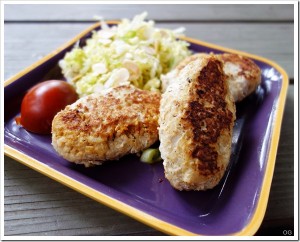 Ingredients: 
3 eggs
1 small onion, finely chopped or grated
1 lb ground beef or lamb
1 tablespoon long grain rice
1 teaspoon olive oil
1 tablespoon chopped fresh parsley
1 tablespoon chopped fresh mint
salt and freshly ground pepper
5/8 cup water
2 tablespoons milk
4 tablespoons butter
Beat two of the eggs. Put the onion, meat, rice, oil, parsley, mint, salt and pepper to taste in a bowl. Mix well and bind with the two eggs. Form into 12 balls. Place in a shallow pan with a lid and pour water over the balls. Cover and simmer on low heat for about forty minutes or until the water has evaporated. Allow the balls to cool so you can handle them. Beat the remaining egg with the milk. Melt the butter in a frying pan. Dip the meat balls in the egg and milk batter and then fry until golden. Serve with plain boiled rice or saffron rice.
This recipe is from Herbs with Everything by Sheila Howarth.
This is a very interesting meatball recipe and adaptable to taste and other meat choices. With rice and cumin and a little different way to cook. I have even used ground turkey.
One alternative is to heat a large pan on medium heat, spray with cooking spray, add chopped onion and sauté until lightly brown and soft, add 1/3 of ground turkey and break it into small pieces. Sprinkle with salt and spices. Stir the turkey occasionally to make sure it's not pink. Let cool.
Mix remaining raw ground turkey, egg, cooked rice, browned turkey and onion very well. Cover and let stay in fridge about an hour.
Divide mixture into 8 parts and make boat-shape patties. For original recipe – cover patties in flour, then in slightly beaten egg, then in breadcrumbs and cook in big amount of olive oil. For a lighter version – cook unbreaded patties on preheated and sprayed skillet on both sides until browned, cover with lid and let cook through in very small heat. Serve hot with vegetables or with rice.
1 meatball is about 105 calories
(Visited 65 times, 1 visits today)