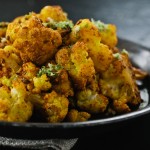 An Indian Recipe
4 green chilies, skinned, seeds removed and chopped fine. Roasted is better!
1/2 tsp. mustard seeds roasted. If you use black mustard roast well!
3Tbs. oil
1/2+ tsp. cumin seed and 1/2+ tsp. coriander seed (cardamom is optional.)
3/4 cup onion, chopped fine
2 cloves garlic or more (somewhat optional)
1/2 tsp. chili powder and turmeric if you want it hotter. ( less for cayenne)
I head cauliflower, separated into flowers. Potatoes may be substituted.
2-4 plum tomatoes, chopped
1/2 tsp. brown sugar.
lemon juice
Separate the cauliflower, and place in cold water with some lemon juice added. Drain before using. Heat the oil and add the mustard seeds, heat then the cumin seeds, onion and ginger and finely the garlic. Stir and Cook for two minutes. Cook another 2 or three minutes and add tomatoes (or sauce) and sugar until it turns a medium brown color. Add the turmeric and Chili's — and a touch of lemon juice. Stir and turn the heat down now adding the cauliflower. Gently stir until the flowers are coated. Add the tomatoes and sugar. Salt to taste, about 1/2 tsp. A Tbs. of yogurt may also be added. Cook over medium low heat for about five minutes. Use any leftover water from the drained cauliflower bowl. Cook 5-10 minutes until the cauliflower is done. Sprinkle with garam masala* or fresh coriander leaves and stir to mix.
(A more simple Non-Indian roasted recipe uses a marinade of 1 cup yogurt, 2 Tbls mustard, 2 cloves garlic, minced, 1/2 tsp, freshly ground cumin seed, 1/2 tsp paprika. Combine the above and spoon over cauliflower, marinating for 15 minutes. Preheat oven to a hot 475. Bake until cooked through. Usually 25 minutes. Support cauliflower in a ring pan within a larger pan.)
*Garam masala can now be bought in most stores, however a basic homemade recipe is as follows:
1Tbs cardamom seeds, 2 inch stick of cinnamon, 1 tsp cumin (black if available) seeds, 1 tsp. whole cloves, 1 tsp. black peppercorns, 1/4 of an average sized nutmeg. Put in a clean coffee grinder and pulverize, pulse until everything is finely ground. Store in a tight jar.
Clean the coffee grinder by throwing in some rice kernels and pulverize!
Check out pakodas.
Is it hot in here or is it just you ?
(Visited 95 times, 1 visits today)