Living in the Pacific Northwest I have access to many wonderful offerings of Seafood. Cioppino is NOT a quick dinner mind you, but a labor of love. It is also a matter of adding dis and dat into the pot at appropriate times. The basic ingredients are listed below, but the beginning must be with the fish stock, (I will add to this fish stock issue soon) wooden spoons, a simmering pot and crisp outdoor air.
It will take a while and if I forget to mention one should pour the fish stock through a spaghetti basket, putting aside the bones and shriveled fish heads. Never an winner if left in the pot. Fish bones and heads, such as snapper, sole, or halibut will do but avoid OILY fish like Salmon or Mackerel. Lotsa  whole Black Peppercorns.
Return to the pot, add the veggies, cook. Then the filleted fish and crab. Clams or mussels are added just at the end.
Good bread is an essential for this meal. Generally, I would barbecue some homemade French bread with garlic and butter.
1 red snapper or sea bass — about 2 lbs. 1 pound shrimp (Alaskan, not the Mexican or Thai shrimp!)

1 quart clams or mussels (or both)
1/4 pound dried porcini mushrooms
1 West Coast Dungeness crab or lobster or lobster if you are the East Coast.

1 stalk of celery
3-4 tomatoes or two cans of Italian tomatoes!
1 green pepper or 1 can green chili salsa
4 Tbs.olive oil
2 large yellow sweet onions, chopped
3 cloves garlic, chopped
3 Tablespoons parsley, chopped (optional-the German in me)

1/4 cup tomato paste
1 pint red wine (Note: some people use white wine!) Either way, I generally find the bottle empty by the time I finish this dish. 😛

Kosher salt, pepper black and white, 2 Tbs. oregano and two GREEK bay leaves, NOT California Bay which is often sold as such!.
Make stock ahead by first simmering the fish head and bones with a cup of wine, 2 bay leaves, 1 of the onions, I stalk celery 1 garlic, water to cover for about two hours. Strain and use with the other liquid broths! Any scallion tops, green garlic tops, leek tops will do. A sprig or two  of thyme. Oh yes, they need to be chopped up first. 😛

Note: You may use many reasonable vegetables you have on hand. You can leave out the tomatoes if you like to make a more traditional fish stock. Sometimes parsley can leave your stock a little cloudy so if you want a more clear broth leave that out.
In Soup pot, brown the onions, chopped fine in the oil with the fish, add chopped garlic. Cook for five minutes until the snapper begins to fall apart. Meanwhile.
Prepare the seafood. Shell and devein the shrimp, leaving the tails intact. Clean and steam the mussels or clams in a separate pot — a quart of water for about 5 minutes (or until the shells open) Save the liquid and use the shells (perhaps a half in the stock.
Break the crab apart.
Remove fish, de-bone if needed and break into pieces. Return to pot, with the pepper or chili salsa, two cans of stewed Italian tomatoes! (I prefer good canned Italian tomatoes — than the greenhouse tomatoes offered in winter.) Two Tbs. or more of tomato paste.
Add the fish stock (about 1-1/2 cups) the oregano, (saffron if you have some) salt and pepper to taste. Add the shrimp and the clams or mussels with all the liquid broth.
Add the wine and simmer for about 15 minutes. Add the cooked crab, broken up. Heat till it warms through. About 2 minutes. Add the parsley.
Rich and Hearty this should serve 6-8 people. Make sure your tablecloth is somewhat sacrifice able and that everyone has plenty of towels and nutcrackers for the crab.
I would love to have additions or commentary to this recipe. The best I have ever had was made by my friend John Campbell. He too added Mussels to his own recipe. It is one of my favorite winter dinners.

All discarded lovers should be given a second chance, but with somebody else. Mae West
If you have a recipe or saying that you think is special and you would  share with the world please leave a comment.
(C)Herb Senft 2014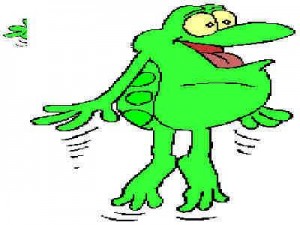 And no, I never added frog legs to the dish!
(Visited 55 times, 1 visits today)