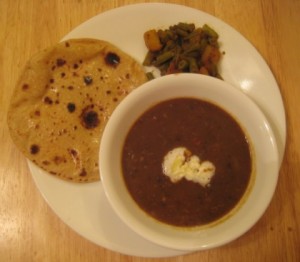 Chapati – An Easy Indian Flatbread
 by Herb Senft
1 cup whole wheat flour
1/2 cup whole wheat bread or chickpea flower, plus extra for rolling
1/2 cup cornmeal
1 Tbsp.+  herbs, crushed in a mortar.*
Peanut or Canola Oil
3/4 to 1 cup of room-temperature water.
1 Tablespoon of sweet butter, melted
1. Put flours. cornmeal, and dillseed — herbs* in a large bowl with half the water (i was perverse that day)
2. Mix well with a rubber or wooden spoon. Slowly blend until you have a ball of dough.
3. Knead well until it forms a compact ball and is smooth and elastic.
4. Cover and set aside for 30 minutes.
6. Divide the dough into pieces the size of a small ball. Wash hands.
7. Flatten  each ball  with wet hands on moist paper towel into a tortilla about 1/8″ thick.  Make 3-5 holes with fingertip.
8. Heat a well-seasoned cast iron skillet over medium-high heat. Use Pam or oil on skillet. (or use  a non stick pan)
9. Put the chapati on it and let cook for about 1 minute. Shake the pan to make sure it doesn't stick.
10. Bake until just firm and lightly turning brown. (one trick is to drizzle some oil on top before turning) Flip when edges begin to raise. Cook the second side for 2/3 – one minute until small bubbles form. 
11. Remove and drain on paper towel, continue  with the rest of the chapati. Layer the towels.
Serve warm (buttered with seasonings.)
On one occasion (to match a German main course) I tried dill. In a small pan combine the butter with the seasonings, then drizzle over the chapati. Napkin wrap to keep warm.
For a more authentic Indian flavor, try 1 tsp. fresh coriander, 1/2 tsp. turmeric, 1 tsp. cumin/coriander powder (or better yet, seed toasted and then ground)  1/2 tsp. chili pepper, 1/2 tsp turmeric for color. Use garam masala and pepper.  Make your own combinations and adjust the proportions.
Let me know of your own experiments!
(Visited 35 times, 1 visits today)