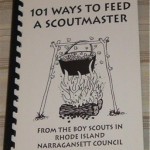 This recipe came from 101 Ways to Feed a Scoutmaster. Out of print but still shows up every now and then. I bought the book in 2001 it to support the cause.
INGREDIENTS:
1 PACKAGE WHITE CAKE MIX
1 1/2 CUPS BROWN SUGAR
3 TABLESPOONS BUTTER
ABOUT 6 CUPS SLICED APPLES
1/2 TEASPOON GINGER
1/2 TEASPOON CINNAMON
DIRECTIONS
1.In a dutch oven melt the butter and add sugar and caramel and melt.
2.Season the apple slices with the sugar and cinnamon and slowly add the caramel sauce being careful to keep the caramel liquid and not allow it to solidify.
3.When the apples are completely covered with the caramel, set aside.
4.Mix the cake mix according to the directions and cover the apples completely.
5.Add 6 tablespoons vegetable oil and bake.
(Visited 44 times, 1 visits today)