A conversation on another site involved Seafood and Japanese cooking. Those onigari – Bento (rice balls) were exceptional. I do have a Japanese cooking book and will now try out some of those recipes.
As for 'Sushi' — I am yet to be sold. Too much experience fishing, fileting and seeing what crawls out. I would only buy Japanese imported Sushi as the radioactivity should have killed the bacterium's you are eating, much less the worms.
Whale meat?? They still are buying whale kills from the Makah tribe in WA. which has been given the approval to 'harvest' them as it is part of their tribal heritage. Guess where the meat goes. YUP! Japan! Same for the biggest shrimp harvested off Alaska. The American consumer never gets to see them.
For example Jumbo Shrimp have 21 to 25 shrimp per pound. 'large shrimp' are 41-35 per pound. HA!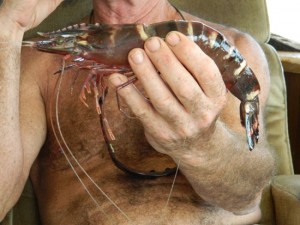 What the Japanese were buying were "COLOSSAL"
These are 14 to a lb.
Super Colossal and Extra
are 10 down to 5 respectably. I was fortunate to be able to grill some of these 'ten's' on the grill. What blew me away was the ROE! This was ten times better than the shrimp itself or any caviar I have ever eaten. Sadly that was decades ago and I doubt I will ever see anything like those beauties ever again. The actual grade was #6
I must make note that my shrimp experience was being served giant #6 Alaskan shrimp so large they stretched across the plate. Barbecued in a like manner … But it was the roe that was beyond belief!
MARINADE WITH: HOT!!!!
The original recipe makes 6 servings
3 cloves garlic, minced
2 chipotle or habanero peppers chopped, in adobo or habanero sauce
1 lemon, juiced or mixed with  lime juice
1 tablespoon olive oil
1 tablespoon paprika
1 teaspoon chopped fresh cilantro or basil (optional)
1 teaspoon kosher salt
1/2 teaspoon cracked black pepper
1/2 teaspoon crushed red pepper flakes
1/4 teaspoon cayenne pepper
2 pounds uncooked medium shrimp, peeled and deveined
For a sweet and sour alternative you might consider adding:
1/4 cup tomato sauce or chopped up Italian tomatoes, smoked if you can find them.
2 tablespoons red wine vinegar
add 1/4 cup of honey or brown sugar.
Mix together the garlic, chipotle peppers, lemon juice, olive oil, paprika, cilantro, kosher salt, black pepper, red pepper flakes, and cayenne pepper with the liquids in a bowl. Stir in the shrimp, and mix well to thoroughly coat. Marinate for 30 minutes in refrigerator.
Preheat an outdoor grill for medium-high heat, and lightly oil the grate.
Remove the shrimp from the marinade, and discard excess marinade. Thread about 5 shrimp per skewer, and grill on the preheated grill until the shrimp turn pink and opaque in the center, about 2-3 minutes per side. Longer if you have these Giant Shrimp.
Lightly oil grill grate. The normal cooking time is some 2 to 3 minutes per side, or until opaque. Being so large the time was longer and the grill was at medium-high heat. We brushed the Shrimp with a lemon-lime butter mixture with some habanero sauce. Transfer to a serving dish, garnish with lemon wedges and whatever you like.
While cooking barbecue some corn and vegies in tin foil to go with the dinner. Garlic bread and a good beer of course.
Best of all, these barbecued Colossal Shrimp were FREE. These guys go for 10.00 ea. in Seattle and Benihana serves ONE entry with breast of chicken for 29.95.Octopus dishes are also not so uncommon. http://www.dishtip.com/s/wa/seattle/top-dishes/octopus
A few were rated highly …
Grilled Portuguese Octopus & Crispy Potato Salad – Chorizo, Garlic Chips & Mint Aioli — Dinner: $14.00

OOHG — They even had "baby octopi." In Boston, where I lived for a while, squid and octopi were commonly served. They even have an Octopus Bar in Seattle.
I do have a "flower blossom squid recipe" that I stopped woking. The prep time in cleaning the squid was a pain (kids didn't like it either.) Red peppers, (basil,mint, cilantro) garlic, lime zest, fish sauce … etc. Served on rice or noodles. I even disguised it in a burrito one time. NADA. I thought it was great.
Another sauce suggestion would be:
1 tablespoon olive oil
1 cup chopped carrots
1/2 cup chopped onion
4 cloves garlic, minced
5 habanero peppers
1/4 cup water
1/4 cup lime juice
1/4 cup white vinegar
1 tomato
(Visited 545 times, 1 visits today)