This recipe is equally good for Italian Plums/Prunes – actually my own preference.
2-3 cups flour (two actually used)
2/3 cups butter = 1 1/2 stick
3/4 cups sugar
2 eggs
2 1/2 tsp. baking powder
1 tsp. vanilla
3 tbs. milk, cream or sour cream
4-5 sliced apples,
Cut butter in bowl with flour, sugar and eggs. Mix together, put in fridge. When cold roll out on a greased cookie sheet, bake in a hot oven (400F) for about 3/4 hr.
Slice 4 or 5 apples (or equivalent of plums) and place on crust. Sprinkle with sugar, or currants and cinnamon sugar.
I actually liked the plum cake version better (pflaumenkuchen)  Basically the same instructions.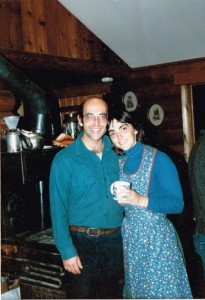 My edit would be to treat the beginning recipe more as a bread. Heaping flour on a bread board and making a depression to hold the beaten egg and some, salt and other stuff. Knead this to a firm dough and let set while you deal with the apples or plums.
These should be sprinkled with brown sugar and cinnamon. No vanilla. I suppose this is more like the crumble that Nancy made. The fancier German strudel would have thin layers of dough, alternating with the apples and sour cream and other layer's of dough and filling. The finished layer of dough should be brushed with melted butter and the strudel should bake in a hot 400F oven until well browned. Only then would add some Vanilla Sauce as a topping. 
Now my partner Nancy had her own quick favorite and since we had over a dozen bearing apple trees we  made a lot of applesauce and …
Apple Crisp Crumble
from Nancy Bell
and found in an old Washington State Cookbook.
1/2 cup butter
1 1/2 cup brown sugar
2 tbs. flour
1/2 tsp. nutmeg
Blend to consistency of crumbs, spread over 4 cups thinly sliced apples in baking dish. Bake at 350, 45 minutes to 1 hour or until apples are done.
Another version being sprinkle 1 tsp. Cinnamon, 1/2 tsp. Salt,1/4 cup water over apples. Rub together 3/4 cup flour, 1 cup sugar, 1/3 cup butter. Drop this mixture over apples. Bake, serve with ice cream. 350 for 45 minutes.  A quick and simple recipe and the first baking success my two young kids had and that was with an old fashioned wood burning  cook stove.

"Dear tracks make a very thin soup" as I would all too soon find out."
(Visited 48 times, 1 visits today)